About Us
The Grand Traverse Astronomical Society is a nonprofit organization dedicated to to education and enjoyment of the night sky. Established in 1982, the GTAS has about 30 members from the Traverse City and the Grand Traverse area of northern Michigan. Meetings are held on the first Friday of every month beginning at 8 p.m. at Northwestern Michigan College's Joseph H. Rogers Observatory, though the August meeting is preempted by the annual picnic at another location.
Guests are always welcome to our meetings.
Over 750 attended the society sponsored Comet Hyakutake Watches March 23, and 24th, 1996. The farthest traveler came from Detroit to enjoy the dark skies and the spectacular comet through many telescopes. Comet Hale-Bopp attracted approximately 1,400 during the three scheduled viewing nights that were clear.
We've hit the road, so to speak, with outreach beyond the NMC Observatory since 2007. Since 2011 we've held monthly star parties at Sleeping Bear Dunes National Lakeshore from April to October with additional eclipse and meteor shower watches. We bring our telescopes and exhibits to several festivals around the area along with Friday Night Live in Traverse City. Since 2010 the society has been hosting monthly star parties at the Sleeping Bear Dunes National Lakeshore.

The GTAS belongs to the International Dark-Sky Association and participates in Project Astro.
Two of our members are also NASA/JPL Solar System Ambassadors.


Upcoming Meetings and Outreach Events
Note that outdoor events are held weather permitting
Events at the Joseph H. Rogers Observatory are available via Zoom. Instructions and a link will be published here prior to the event.
Friday, January 5 – Monthly meeting and star party at NMC Rogers Observatory. Also available via Zoom.
8 pm – General Meeting – Our annual Telescopic Clinic:
Got a telescope for Christmas and want to learn how to use it?
Already have a telescope gathering dust because you think it's broken, or missing parts?
Bring it in if you can.
- or -
If you want to buy a telescope, and don't know what kind to get.
Our telescope experts may be able to help.
9 pm – Star Party, if it is clear.
Zoom Instructions:
Link: https://us02web.zoom.us/j/8388913229
Meeting ID: 838 891 3229
One tap mobile
+13126266799,,8388913229# US (Chicago)
+19292056099,,8388913229# US (New York)

Dial by your location
+1 312 626 6799 US (Chicago)
+1 929 205 6099 US (New York)
+1 301 715 8592 US (Washington DC)
+1 346 248 7799 US (Houston)
+1 669 900 6833 US (San Jose)
+1 253 215 8782 US (Tacoma)
Meeting ID: 838 891 3229
Find your local number: https://us02web.zoom.us/u/keEdleAqB1
Friday, February 2 – Monthly meeting and star party at NMC Rogers Observatory. Also available via Zoom.
8 pm – General Meeting – Program to be announced
Check here often for other events that may pop up during the month.
---
T
his article is distributed by NASA Night Sky Network
The Night Sky Network program supports astronomy clubs across the USA dedicated to astronomy outreach. Visit nightsky.jpl.nasa.gov to find local clubs, events, and more!
---
A Flame in the Sky: the Orion Nebula
By Kat Troche
It's that time of year again: winter! Here in the Northern Hemisphere, the cold, crisp sky offers spectacular views of various objects, the most famous of all being Orion the Hunter.
As we've previously mentioned, Orion is a great way to test your sky darkness. With your naked eye, you can easily spot this hourglass-shaped constellation. Known as an epic hunter in Greco-Roman, Orion and all its parts have had many names and meanings across many cultures. In Egyptian mythology, this constellation represented the god Sah. The Babylonians referred to it as The Heavenly Shepard. In most cultures, it is Orion's Belt that has many stories: Shen in Chinese folklore, or Tayamnicankhu in Lakota storytelling. But the Maya of Mesoamerica believed that part of Orion contained The Cosmic Hearth – the fire of creation.

Credit: Stellarium Web
1,500 light years away from Earth sits the star-forming region and crown jewel of Orion – Messier 42 (M42), the Orion Nebula. Part of the "sword" of Orion, this cloud of dust and gas sits below the first star in Orion's Belt, Alnitak, and can easily be spotted with the naked eye under moderate dark skies. You may also use binoculars or a telescope to resolve even more details, like the Trapezium: four stars in the shape of a baseball diamond. These young stars make up the core of this magnificent object.

ESA/Webb, NASA, CSA, M. Zamani (ESA/Webb), PDRs4ALL ERS Team
Of course, it's not just for looking at! M42 is easily one of the most photographed nebulae around, by astrophotographers here on the ground, large ground-based observatories, and space telescopes alike. It has long been a place of interest for the Hubble, Spitzer, and Chandra X-ray Space Telescopes, with James Webb Space Telescope joining the list in February 2023. Earlier this year, NASA and the European Space Agency released a new photo of the Orion Nebula taken from JWST's NIRCam (Near-Infrared Camera), allowing scientists to image this early star forming region in both short and long wavelengths.
But stars aren't the only items photographed here. In June 2023, JWST's NIRCam and MIRI (mid-infrared instrument) imaged a developing star system with a planetary disk forming around it. That's right – a solar system happening in real time – located within the edges of a section called the Orion Bar. Scientists have named this planet-forming disk d203-506, and you can learn more about the chemistry found here. By capturing these objects in multiple wavelengths of light, we now have even greater insight into what other objects may be hiding within these hazy hydrogen regions of our night sky.
In addition to our Dark Sky Wheel, a fun presentation you can share with your astronomy club would be our Universe Discovery Guide: Orion Nebula, Nursery of Newborn Stars activity. This will allow you to explain to audiences how infrared astronomy, like JWST, helps to reveal the secrets of nebulae. Or, you can use public projects like the NASA-funded MicroObservatory to capture M42 and other objects.
Learn more about what to spy in the winter sky with our upcoming mid-month article on the Night Sky Network page through NASA's website!
---
A Total Solar Eclipse is Coming!
David Prosper*
A dramatic total solar eclipse will darken the skies from Mexico to northeast Canada, casting its shadow across the USA in a strip approximately 124 miles (200 km) wide, on Monday, April 8, 2024. While protection must be worn to safely observe most of this eclipse, it's not needed to witness totality itself, the brief amount of time when the Moon blocks the entire surface of the Sun from view. And if you try to view totality through your eclipse viewer, you won't actually be able to see anything! The Moon's shadow will dramatically darken the skies into something resembling early evening, confusing animals and delighting human observers. You will even be able to see bright stars and planets - provided you are able to take your eyes off the majesty of the total eclipse! While the darkness and accompanying chilly breeze will be a thrill, the most spectacular observation of all will be the Sun's magnificent corona! Totality is the only time you can observe the corona, which is actually the beautiful outer fringes of the Sun's atmosphere. For observers in the middle of the path, they will get to experience the deepest portion of the eclipse, which will last over four minutes - twice as long as 2017's total solar eclipse over North America.
Everyone off the path of maximum eclipse can still catch sight of beautiful partial eclipse if the skies are clear. The Eclipse Ambassadors program is recruiting volunteers across the USA to prepare communities off the central paths in advance of this amazing cosmic ballet. Find more information and apply to share the excitement at eclipseambassadors.org. NASA has published a fantastic Solar Eclipse Safety Guide which can help you plan your viewing at bit.ly/nasaeclipsesafety. And you can find a large collection of solar eclipse resources, activities, visualizations, photos, and more from NASA at solarsystem.nasa.gov/eclipses

This detailed solar eclipse map shows the paths of where and when the Moon's shadow will cross the USA for the previous 2023 annular solar eclipse and the upcoming 2024 total solar eclipse, made using data compiled from multiple NASA missions. Where will you be? This map is very detailed, so if you would like to download a larger copy of the image, you can do so and find out more about its features at: https://svs.gsfc.nasa.gov/5073. Credits: NASA/Scientific Visualization Studio/Michala Garrison; eclipse calculations by Ernie Wright, NASA Goddard Space Flight Center.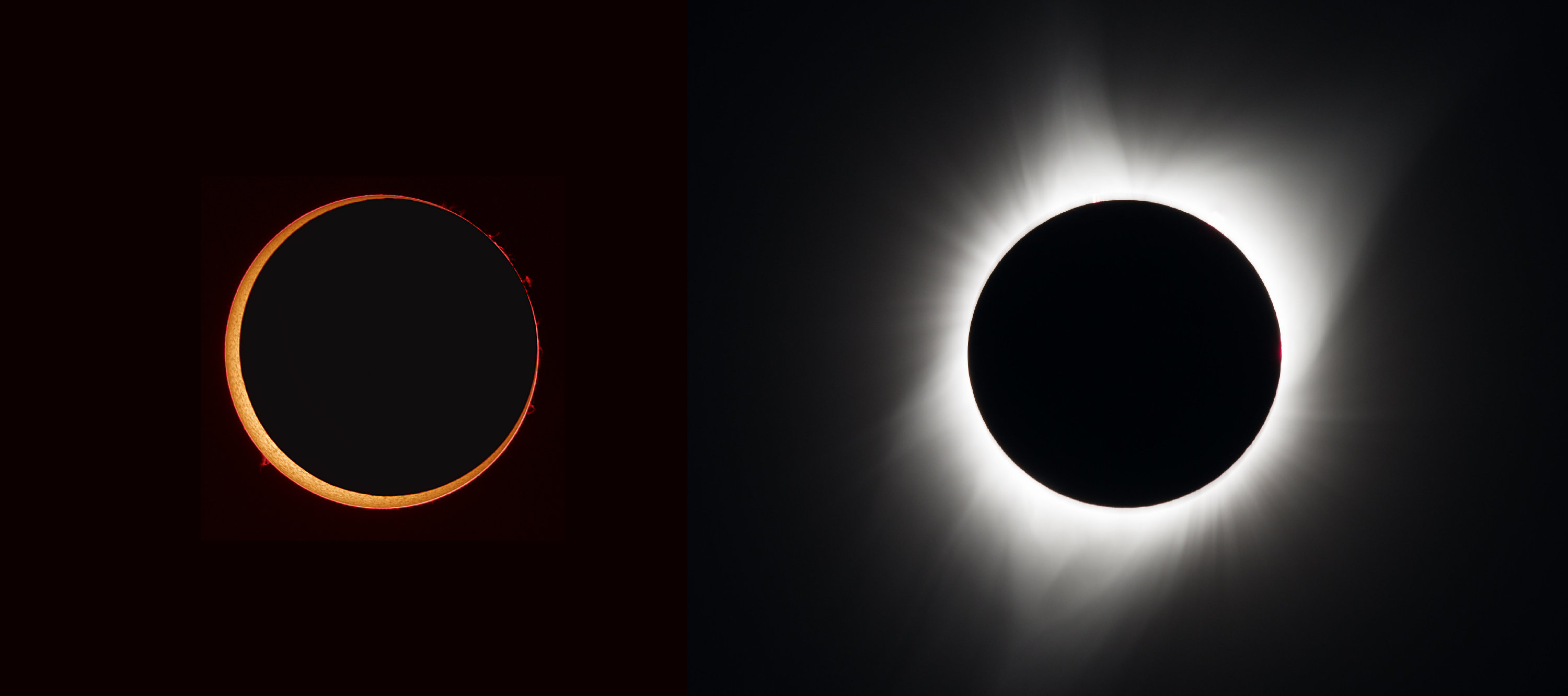 Photos of an annular total solar eclipse (left) and a total solar eclipse (right). Note that the annular eclipse is shown with a dark background, as it is only safe to view with protection – you can see how a small portion of the Sun is still visible as the ring around the Moon. On the right, you can see the Sun's wispy corona, visible only during totality itself, when the Moon completely – or totally - hides the Sun from view. A total solar eclipse is only safe to view without protection during totality itself; it is absolutely necessary to protect your eyes throughout the rest of the eclipse! Credits: Left, Annular Eclipse: Stefan Seip (Oct 3, 2005). Right, Total Eclipse, NASA/Aubrey Gemignani (August 21, 2017)


* Originally written before the October 14, 2023 annular eclipse, it was modified to exclude the forward looking statements about that eclipse by the web master.
Links
For Kids: NASA's Space Place website
The Space Place is a NASA website for elementary school-aged kids, their teachers, and their parents.
It's colorful! It's dynamic!
It's fun!

It's rich with
Science,
Technology, Engineering, and
Math (STEM) content!

It's informal.

It's easy to read and understand.

It's also in Spanish.

And it's free!
It has over 150 separate modules for kids, including hands-on projects, interactive games, animated cartoons, and amazing facts about space and Earth science and technology.
See this month's NASA Night Sky Network article at the bottom of the center panel on this page.
Also check out these two sites for kids: NASA's Climate Kids and NOAA's SciJinks
---
Bob Moler's Ephemeris contains audio mp3s of current Ephemeris programs; calendars of sunrise, sunset,moonrise and moonset for the Grand Traverse area of Michigan, and other locations in northern Michigan; plus a monthly star chart.
Also Bob's Ephemeris Blog with daily transcripts of and illustrations for his Ephemeris programs on Interlochen Public Radio. Wednesday's program looks at where the bright planets are along with finder charts.
Northwestern Michigan College's Joseph H. Rogers Observatory
---
If you'd like to donate
From Article II, B of the Articles of Incorporation of the Grand Traverse Astronomical Society:
The Society shall operate a scientific and educational organization with the goal of increasing interest in, the knowledge and enjoyment of astronomy; cooperate with similar organizations; and cooperate with Northwestern Michigan College to increase the benefit of the college observatory to the community.
As you can see by the statement above the society is inexorably linked to the Joseph H. Rogers observatory. However in the past number of years members have been also taking telescopes out into the community, on sidewalks and street corners, and in the street on Friday Night Live, and to the Sleeping Bear Dunes National Lakeshore. We find that many folks in the area have never been out to the observatory. This way we are going to to the public. And having a huge telescope is really a great attraction, not to mention the superb views of the heavens it will provide.
We have purchased a 25 inch Dobsonian telescope with trailer to use and to take around for our outreach program. We have also purchased two solar telescopes to view the Sun's prominences and chromosphere.
We have recently purchased small telescopes to give to libraries for them to lend out. The first two recipients are Traverse Area District Library and Betsie Valley District Library. Enerdyne of Suttons Bay donated the second telescope..
You may contribute to the fund to help us upgrade and add accessories to the society's telescopes by mailing a check to the GTAS, c/o the society treasurer Gary Carlisle, 1473 Birmley Rd, Traverse City, MI 49686. We are a 501(c)(3) non profit organization. Donations are tax deductible.
Thank You!