About Us
The Grand Traverse Astronomical Society is a nonprofit organization dedicated to to education and enjoyment of the night sky. Established in 1982, the GTAS has about 30 members from the Traverse City and the Grand Traverse area of northern Michigan. Meetings are held on the first Friday of every month beginning at 8 p.m. at Northwestern Michigan College's Joseph H. Rogers Observatory, though the August meeting is preempted by the annual picnic at another location.
Guests are always welcome to our meetings.
Over 750 attended the society sponsored Comet Hyakutake Watches March 23, and 24th, 1996. The farthest traveler came from Detroit to enjoy the dark skies and the spectacular comet through many telescopes. Comet Hale-Bopp attracted approximately 1,400 during the three scheduled viewing nights that were clear.
We've hit the road, so to speak, with outreach beyond the NMC Observatory since 2007. Since 2011 we've held monthly star parties at Sleeping Bear Dunes National Lakeshore from April to October with additional eclipse and meteor shower watches. We bring our telescopes and exhibits to several festivals around the area along with Friday Night Live in Traverse City. Since 2010 the society has been hosting monthly star parties at the Sleeping Bear Dunes National Lakeshore.

The GTAS belongs to the International Dark-Sky Association and participates in Project Astro.
Two of our members are also NASA/JPL Solar System Ambassadors.


Upcoming Meetings and Outreach Events
Note that outdoor events are held weather permitting
Events at the Joseph H. Rogers Observatory are available via Zoom. Instructions and a link will be published here prior to the event.
Friday, October 6 – Monthly meeting and star party at NMC Rogers Observatory. Also available via Zoom.
7 pm – Board of Directors Meeting
8 pm – General Meeting.
Program: Bob Moler: Stars and stories of the autumn sky
9 pm – Star Party, if it is clear.
Saturday, October 21 – The park's 53rd anniversary Star Party at Sleeping Bear Dunes National Lakeshore's Dune Climb. 8 pm.
Friday, October 6 – Monthly meeting and star party at NMC Rogers Observatory. Also available via Zoom.
7 pm – Board of Directors Meeting
8 pm – General Meeting.
Program: Bob Moler: Stars and stories of the autumn sky
9 pm – Star Party, if it is clear.
Attend via Zoom:
https://us02web.zoom.us/j/8388913229
Meeting ID: 838 891 3229
One tap mobile
+13126266799,,8388913229# US (Chicago)
+19292056099,,8388913229# US (New York)

Dial by your location
+1 312 626 6799 US (Chicago)
+1 929 205 6099 US (New York)
+1 301 715 8592 US (Washington DC)
+1 346 248 7799 US (Houston)
+1 669 900 6833 US (San Jose)
+1 253 215 8782 US (Tacoma)
Meeting ID: 838 891 3229
Find your local number: https://us02web.zoom.us/u/keEdleAqB1
Saturday, October 14 Solar Eclipse (Two venues) 11:42 am – 2:18 pm
NMC Main Campus, north of the Innovation Center – lead by Jerry Dobek
Betsie Valley District Library, 14744 Thompson Ave., Thompsonville, MI – lead by Bob Moler
Saturday, October 21 – The park's 53rd anniversary Star Party at Sleeping Bear Dunes National Lakeshore's Dune Climb. 8 pm.
Friday, November 3 – Monthly meeting and star party at NMC Rogers Observatory. Also available via Zoom.
8 pm – General Meeting – Program: to be announced
9 pm – Star Party, if it is clear.
Friday, December 1 – Monthly meeting and star party at NMC Rogers Observatory. Also available via Zoom.
8 pm – General Meeting – Program: Astronomy of Ancient Greece by Bob Moler
9 pm – Star Party, if it is clear.
Check here often for other events that may pop up during the month.
---
October 14th, a solar eclipse to practice on
By Bob Moler

Map of the paths of both the October 14, 2023 annular solar eclipse (Oregon to Texas) and the April 8, 2024 total solar eclipse (Texas to Maine) in the United States. Credit NASA. To download the full size map and learn more about these eclipses go to https://solarsystem.nasa.gov/eclipses/home/
Solar eclipses are relatively rare events if you stay in one spot. The last solar eclipse visible from Traverse City was on June 10th 2021. Before that was on August 21st 2017, and before that was on May 20th 2015. If you were able to travel around the world you could see two solar eclipses or more a year. Probably one of them would be a total solar eclipse and another would be an annular solar eclipse, or a partial eclipse.
If you lived just west of San Antonio, TX you would be able to see, within the next seven months, an annular eclipse and a total solar eclipse without even moving to another location. That's where the two paths cross in the map above. Though I haven't checked on it, I think that major eclipses occurring in the same general area on the earth in two consecutive eclipse seasons is a very rare thing.
So, what is an eclipse season? An eclipse season is a period of time, about 35 days long, which occurs when the plane of the Moon's orbit of about 5 degrees tilted from the plane of the earth's orbit intersects with it. That intersection line is called a line of nodes. And when the Sun is within about 17 degrees of that node. We will have at least two eclipses. One being solar, the other lunar. If there is a lunar eclipse in the middle of an eclipse season there may be two partial solar eclipses occurring 2 weeks before and two weeks after that time that fit into the eclipse season. These partial eclipses will be seen near the opposite polar regions. Or a central solar eclipse and two probably slight partial, or penumbral lunar eclipses Penumbral lunar eclipses, in my book, don't count.

The partial eclipse as it might appear from the Grand Traverse Region at three points in the eclipse: 5 minutes after first contact, at mid eclipse and 5 minutes before last contact. Created using Cartes du Ciel, GIMP and LibreOffice Draw.
OK, what about the October 14th eclipse? For us, at maximum eclipse, only 35% of the Sun will be covered, though it will encroach on 46% of the Sun's diameter. Since we are located north of the path of annularity, the Moon will pass south or below the center of the Sun. The eclipse will start, for the Grand Traverse Region at 11:42 am, with a "nibble" of the Sun by the Moon at the 2 o'clock position on the edge of the Sun, if you were looking at the Sun with eclipse glasses. At mid-eclipse the moon's maximum bite will have moved to the lower right. The Moon will leave the Sun to the lower left by 2:18 pm.
Safety Precautions
DO NOT look at the Sun directly without wearing ISO approved eclipse glasses. This statement or words to that effect should be printed on them: "Conforms and meets the Transmission Requirements of ISO 12312-2 Filters for Direct Observation of the Sun."
However, the best way to view a solar eclipse is through projection either through a telescope or a pinhole. Now the pinhole can be fairly large, depending on how far you want to cast the image of the Sun You can cast an image of the Sun 6 feet away with a pinhole that's a quarter inch in diameter.
One time my wife, Judy, even took the mirror of her compact and cast an image of the partially eclipsed Sun on the side of a building across the way, while I was out in the Wilds of North Dakota chasing the Moon's shadow in February 1979. We weren't going to drive that far in winter so some of my friends from Grand Rapids and I chartered a plane for the trip. Judy, wasn't that fond of big planes, and definitely wasn't of smaller ones, so she stayed back in TC. But that eclipse trip is another story.
My favorite way to view a partial eclipse is by projection. If using a telescope or binoculars projection is the best way for groups to view the eclipse safely at the same time. Use I low power eyepiece, a cheap one if possible. I worry about the possibility of the Sun heating the eyepiece lenses causing damage to the cement between the front and back lenses of an achromatic lens. Good luck, and view safely!

Gary Carlisle projecting the eclipsed Sun's image from a telescope onto a movie screen for a group at the NMC Rogers Observatory. Credit: Eileen Carlisle.
---
These articles are distributed by NASA Night Sky Network
The Night Sky Network program supports astronomy clubs across the USA dedicated to astronomy outreach.
---
Solar Eclipses Are Coming!
David Prosper
Have you ever witnessed a total solar eclipse? What about an annular solar eclipse? If not, then you are in luck if you live in North America: the next twelve months will see two solar eclipses darken the skies for observers in the continental United States, Mexico, and Canada!
Solar eclipse fans get a chance to witness an annular eclipse this fall. On Saturday, October 14, 2023, the Moon will move exactly in front of the Sun from the point of view of observers along a narrow strip of land stretching across the United States from Oregon to Texas and continuing on to Central and South America. Since the Moon will be at its furthest point in its orbit from Earth at that time (known as apogee), it won't completely block the Sun; instead, a dramatic "ring" effect will be seen as the bright edge of the Sun will be visible around the black silhouette of the Moon. The distinct appearance of this style of eclipse is why it's called an annular eclipse, as annular means ring-like. If you are standing under a tree or behind a screen you will see thousands of ring-like shadows projected everywhere during maximum eclipse, and the light may take on a wan note, but it won't actually get dark outside; it will be similar to the brightness of a cloudy day. This eclipse must only be observed with properly certified eclipse glasses, or other safe observation methods like pinhole projection or shielded solar telescopes. Even during the peak of the eclipse, the tiny bit of the Sun seen via the "ring" can damage your retinas and even blind you.
Just six months later, a dramatic total solar eclipse will darken the skies from Mexico to northeast Canada, casting its shadow across the USA in a strip approximately 124 miles (200 km) wide, on Monday, April 8, 2024. While protection must be worn to safely observe most of this eclipse, it's not needed to witness totality itself, the brief amount of time when the Moon blocks the entire surface of the Sun from view. And if you try to view totality through your eclipse viewer, you won't actually be able to see anything! The Moon's shadow will dramatically darken the skies into something resembling early evening, confusing animals and delighting human observers. You will even be able to see bright stars and planets - provided you are able to take your eyes off the majesty of the total eclipse! While the darkness and accompanying chilly breeze will be a thrill, the most spectacular observation of all will be the Sun's magnificent corona! Totality is the only time you can observe the corona, which is actually the beautiful outer fringes of the Sun's atmosphere. For observers in the middle of the path, they will get to experience the deepest portion of the eclipse, which will last over four minutes - twice as long as 2017's total solar eclipse over North America.
While some folks may be lucky enough to witness both eclipses in full – especially the residents of San Antonio, Texas, whose city lies at the crossroads of both paths – everyone off the paths of maximum eclipse can still catch sight of beautiful partial eclipses if the skies are clear. The Eclipse Ambassadors program is recruiting volunteers across the USA to prepare communities off the central paths in advance of this amazing cosmic ballet. Find more information and apply to share the excitement at eclipseambassadors.org. NASA has published a fantastic Solar Eclipse Safety Guide which can help you plan your viewing at bit.ly/nasaeclipsesafety. And you can find a large collection of solar eclipse resources, activities, visualizations, photos, and more from NASA at solarsystem.nasa.gov/eclipses

This detailed solar eclipse map shows the paths of where and when the Moon's shadow will cross the USA for the upcoming 2023 annular solar eclipse and 2024 total solar eclipse, made using data compiled from multiple NASA missions. Where will you be? This map is very detailed, so if you would like to download a larger copy of the image, you can do so and find out more about its features at: https://svs.gsfc.nasa.gov/5073 Credits: NASA/Scientific Visualization Studio/Michala Garrison; eclipse calculations by Ernie Wright, NASA Goddard Space Flight Center.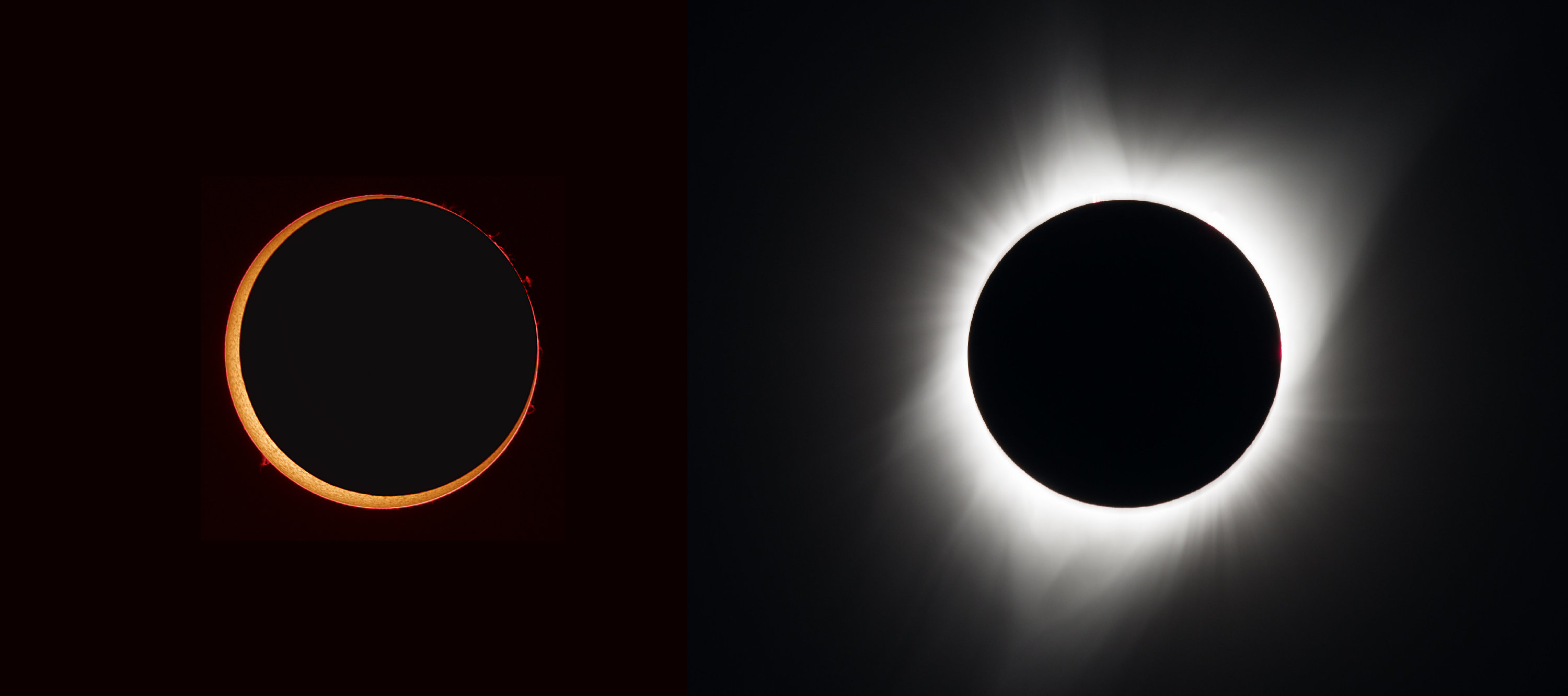 Photos of an annular total solar eclipse (left) and a total solar eclipse (right). Note that the annular eclipse is shown with a dark background, as it is only safe to view with protection – you can see how a small portion of the Sun is still visible as the ring around the Moon. On the right, you can see the Sun's wispy corona, visible only during totality itself, when the Moon completely – or totally - hides the Sun from view. A total solar eclipse is only safe to view without protection during totality itself; it is absolutely necessary to protect your eyes throughout the rest of the eclipse! Credits: Left, Annular Eclipse: Stefan Seip (Oct 3, 2005). Right, Total Eclipse, NASA/Aubrey Gemignani (August 21, 2017)
Links
For Kids: NASA's Space Place website
The Space Place is a NASA website for elementary school-aged kids, their teachers, and their parents.
It's colorful! It's dynamic!
It's fun!

It's rich with
Science,
Technology, Engineering, and
Math (STEM) content!

It's informal.

It's easy to read and understand.

It's also in Spanish.

And it's free!
It has over 150 separate modules for kids, including hands-on projects, interactive games, animated cartoons, and amazing facts about space and Earth science and technology.
See this month's NASA Night Sky Network article at the bottom of the center panel on this page.
Also check out these two sites for kids: NASA's Climate Kids and NOAA's SciJinks
---
Bob Moler's Ephemeris contains audio mp3s of current Ephemeris programs; calendars of sunrise, sunset,moonrise and moonset for the Grand Traverse area of Michigan, and other locations in northern Michigan; plus a monthly star chart.
Also Bob's Ephemeris Blog with daily transcripts of and illustrations for his Ephemeris programs on Interlochen Public Radio. Wednesday's program looks at where the bright planets are along with finder charts.
Northwestern Michigan College's Joseph H. Rogers Observatory
---
If you'd like to donate
From Article II, B of the Articles of Incorporation of the Grand Traverse Astronomical Society:
The Society shall operate a scientific and educational organization with the goal of increasing interest in, the knowledge and enjoyment of astronomy; cooperate with similar organizations; and cooperate with Northwestern Michigan College to increase the benefit of the college observatory to the community.
As you can see by the statement above the society is inexorably linked to the Joseph H. Rogers observatory. However in the past number of years members have been also taking telescopes out into the community, on sidewalks and street corners, and in the street on Friday Night Live, and to the Sleeping Bear Dunes National Lakeshore. We find that many folks in the area have never been out to the observatory. This way we are going to to the public. And having a huge telescope is really a great attraction, not to mention the superb views of the heavens it will provide.
We have purchased a 25 inch Dobsonian telescope with trailer to use and to take around for our outreach program. We have also purchased two solar telescopes to view the Sun's prominences and chromosphere.
We have recently purchased small telescopes to give to libraries for them to lend out. The first two recipients are Traverse Area District Library and Betsie Valley District Library. Enerdyne of Suttons Bay donated the second telescope..
You may contribute to the fund to help us upgrade and add accessories to the society's telescopes by mailing a check to the GTAS, c/o the society treasurer Gary Carlisle, 1473 Birmley Rd, Traverse City, MI 49686. We are a 501(c)(3) non profit organization. Donations are tax deductible.
Thank You!