GTAS Sidewalk Astronomers a
fter the Alden Stroll, Alden MI Depot park on August 7th, 2008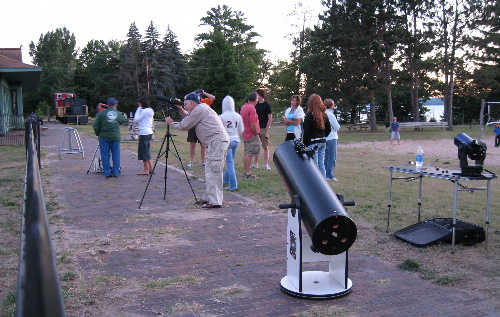 Telescopes trained on the moon and Jupiter in the twilight
GTAS Sidewalk Astronomers at
Friday Night Live, Front St, Traverse City August 8, 2008
A youngster is looking through Bob Moler's telescope at the moon while in the background Gary Carlilse has set up his telescope in the center of the street to catch a look at the sun.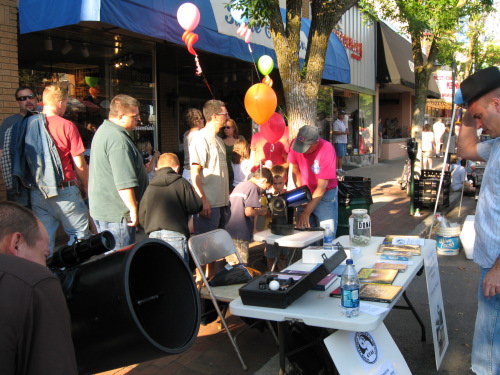 The GTAS display table. In the background Richard Kuschell is showing the moon with his Go To telescope
The GTAS face painting booth garnered us lots of donations for the telescope. Jan Uthe, Holly Thompson and Shannon Wilson donate their artistic skills.
Ron Uthe, in the center holding our brochures, helped attract lots folks to the telescopes and of donations for our 25 " telescope. Gary Carlisle, far right, watches on as a young fellow marvels that the point of light in the sky is Jupiter with its
moons that he just saw in Gary's telescope.

The 25" Telescope has arrived!
This is the second telescope setup exercise at the September meeting. Photos courtesy of Barbara Disborough. Check out
Bob's Ephemeris Blog
for a description of the first time we set up the telescope.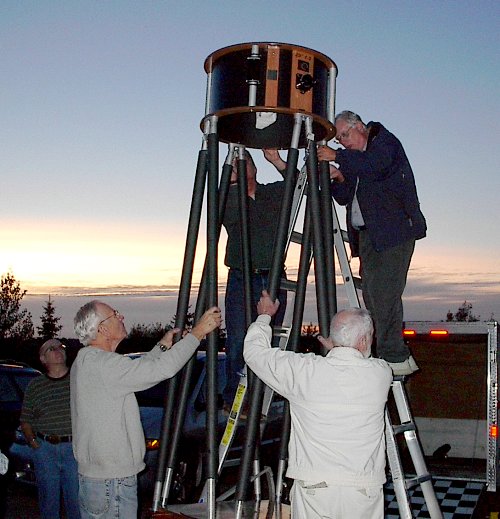 Tightening the telescope's upper tube assembly is clockwise from top center, behind the telescope is Bob Boss, Bob Moler. Ron Uthe, Craig Ensfield with Gary Carlisle looking on.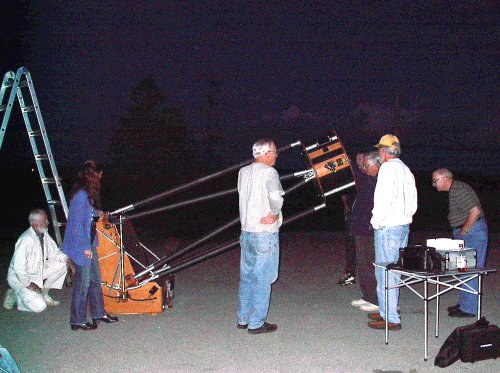 Collimating (aligning the optics of) the telescope.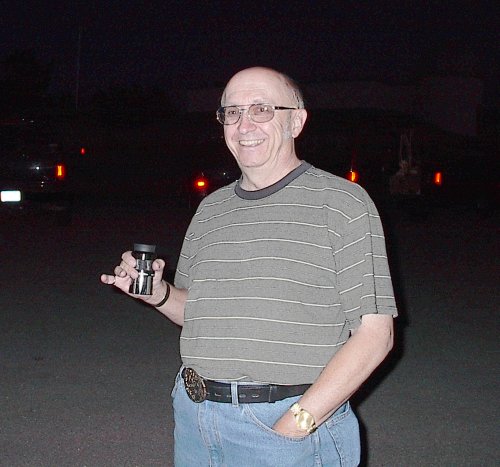 Gary's letting us use his eyepiece tonight.
Astronaut Greg Johnson (Pilot of STS 123)
Astronaut gave a talk about his trip to the International Space Station at the Empire Township Hall. The GTAS Sidewalk Astronomers were there. And even though it never cleared up the 25" Telescope attracted the folks who attended the talk.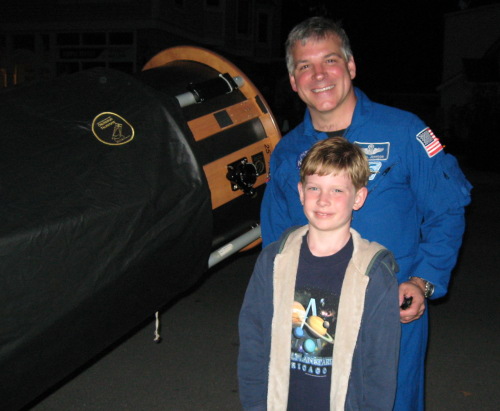 We were able to take this photo of Astronaut Greg Johnson and friend near the business end of the telescope.
We were at the Frankfort High Football Game on October 10th.
Richard Kuschell running the 25" telescope at the south end of the field.

Gary Carlisle also brought his telescope (not pictured) to view the moon while the 25" was pointed at Jupiter.
We were at the Mancelona High Football Game on October 17th.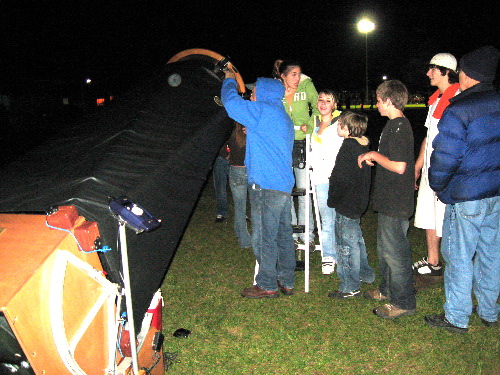 Richard Kuschell focuses the 25 inch telescope on Jupiter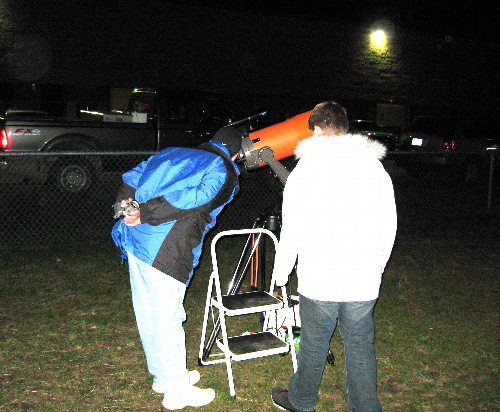 Checking out Jupiter in Gary Carlisle's C-8 telescope
---